XR Prototyping
Field Notes #3
After launching Field Notes on TinyLetter, I quickly realized that the platform has some limits in terms of integrating images. So I've switched over to Substack for a bit more control over image placement. Very happy with the platform so far.
Ideas are free. But it costs either time or money to turn them into a reality, and verify that somehow the original genius of the idea holds true.
I think what is most powerful about today's XR landscape is that the tools available to make an early prototype or proof-of-concept of your idea, and just to explore new technologies more broadly and be inspired by doing, are more easily available than ever. And this is important, because more than with most other media tweaking and testing your XR experiences is incredibly important in order to find the right balance between story and interaction, between simple and overly complicated.

We have Tilt Brush and Google Blocks, both powerful resources. But here are some other tools that I've used to pull together a quick mock up for a concept, or found useful to play with in the past.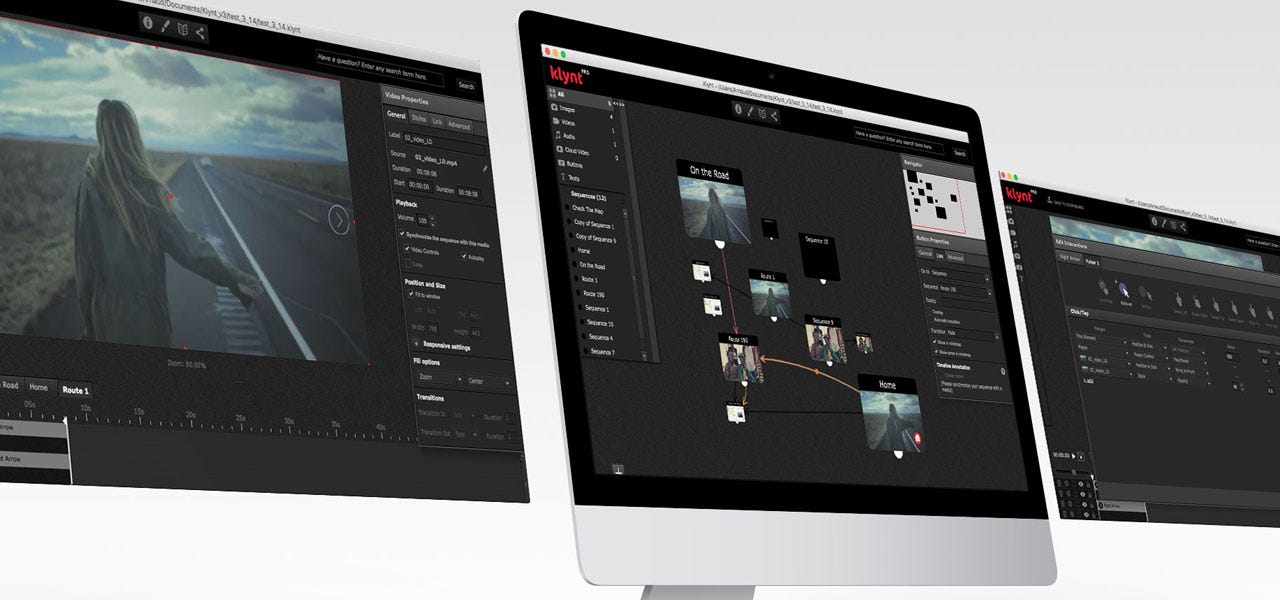 KLYNT ET AL - INTERACTIVE STORYTELLING
klynt.net/vr/
In terms of interactive stories, there are some great tools on the market that allow you to quickly iterate on your core narrative, and experiment with how interactions can affect this. Klynt allows you ro create immersive experiences easily and preview them instantly with your favorite VR headset, no coding required.
Bringing in self-shot or archive footage, and adding interactive work-flows is quick and easy, and this allows for more experimentation with the actual interaction, and less nitpicking in code. You could even take imagery from YouTube if your experiment is purely for personal use, rather than publishing.
Racontr and Eko (previously Interlude.fm) have similar features, so explore these on price and usability. All of these also include powerful platforms for publishing your interactive content later down the line.
But most important is the ability to test your theory for how interactions will make your story more powerful, or to work out how you actually might approach your shoot, and do the interactive experimenting up-front, for as long as needed before you get into a make-or-break situation.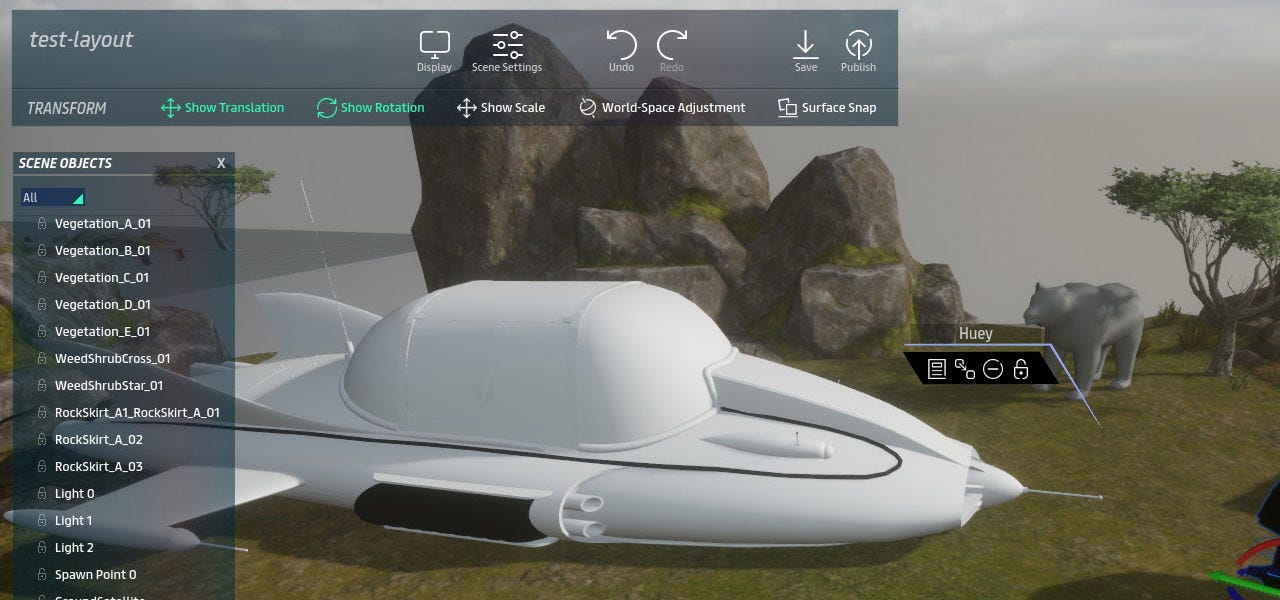 SANSAR - VR EDITOR
atlas.sansar.com
I have spent a lot of time in Sansar, the social Virtual Reality platform by Linden Lab. It is a powerful community of diverse people with a huge desire for fun and for doing things together in Sansar's wide range of eclectic virtual spaces. If you have never been, Atlas Surfing hosted by Draxtor is a must-do group activity for anyone with a headset.
But what is interesting to explore is Sansar's own world editor. This browser-based interface is a very powerful way to visualize the space you might want to build, and then walk through it with other people on your team. You can create a space at an accurate scale in less than fifteen minutes once you're set up, and resizing or moving things around once you jump in there is minutes more, really very easy to use even without much experience in 3d software.
You can open a new, empty blank space, and very quickly put some blocks and pyramids down that might resemble the layout of your space, scale them down to small, or make the much larger. Walking through a space with a small group of people, and discussing what improvements to make while pointing at the same detail together, makes this a very human creation process.
And you can do this real-time inside your VR headset. You literally pick up and rescale objects using your controllers - as if you're physically altering the landscape like a giant moulding the landscape around you. It is an extremely fun and satisfying process once you work it out.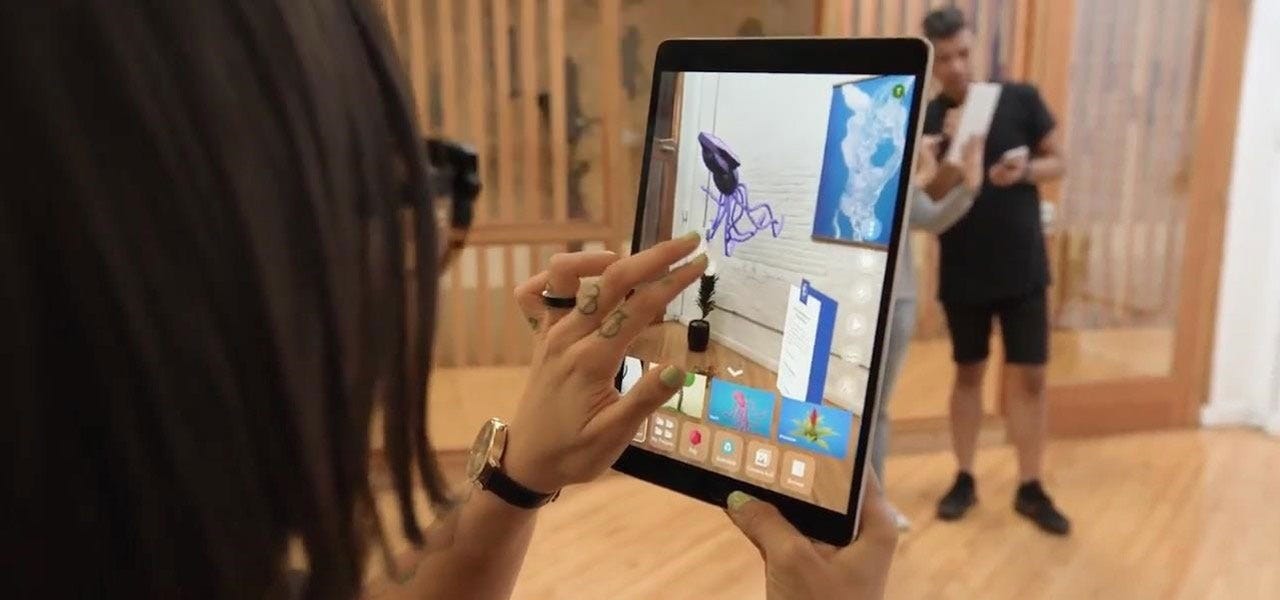 TORCH - AR PROTOTYPING
torch.app
In Augmented Reality, there are some really powerful tools emerging allowing you to put almost anything into Augmented Reality quickly. Even just uploading a 3d model to Sketchfab does this at the touch of a button. But I find Torch and Lens Studio the most powerful options out there right now.
Introducing 1, 2, 3, Magic! Torch app is a collaborative AR prototyping tool, developing specifically to allow you to tap into existing platforms such as Google Drive and Sketchfab and create a proof-of-concept for your AR idea quickly and easily, long before you've spent significantly on actually building that idea out.
You can share with anyone on Google Drive, as it plus straight into the app. And you can bring in 3D models from Sketchfab and Poly, or 2D assets from Sketch and Adobe.
You can then use Torch's interaction system to trigger animations, dynamically modify object properties like size, location, and color, navigate between scenes, or to design more complex and personalized user experiences and immersive stories.
When you collaborate with your team, you can work together in the same location or collaborate remotely, in real-time. And from a professional perspective, you can invite clients and stakeholders to review your progress and give feedback and sign-off.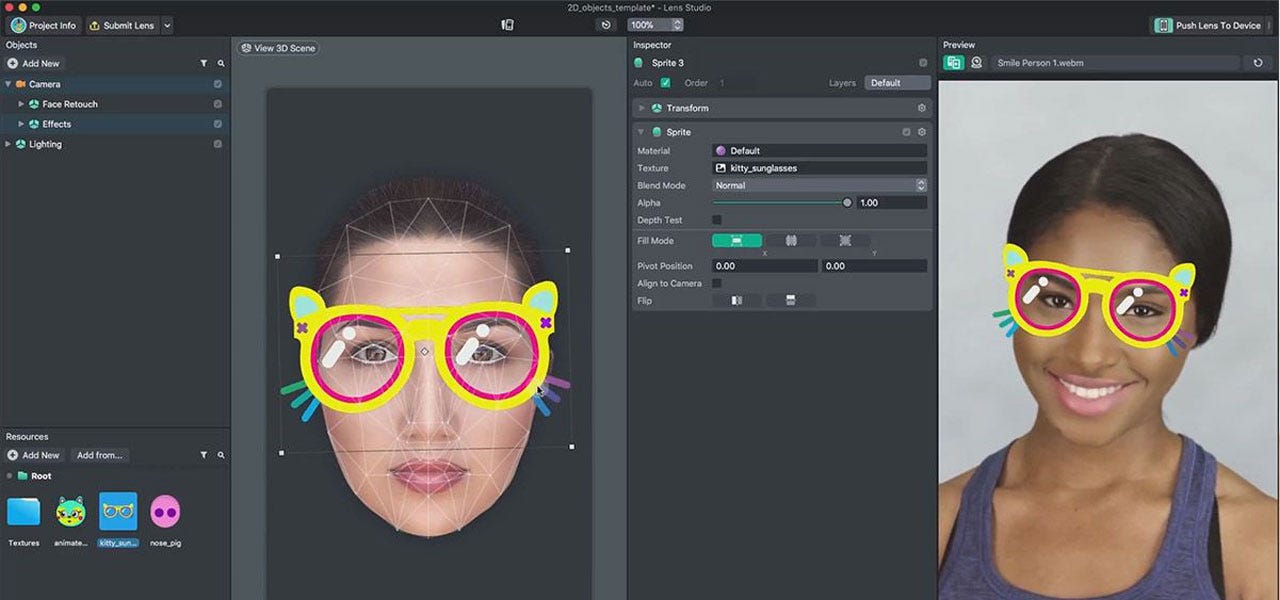 SNAP LENS STUDIO
lensstudio.snapchat.com
Snapchat's Lens Creator is the most powerful filter creation tool on the market. But it is also great for just messing around and throwing in something random just to see what happens. If you're curious how to make someone look like a Panda, or you want to understand face-tracking technology better, Lens Studio is a great tool to just mess around. The templates that come as-standard with the software set you up with fully built-out projects, meaning you can pick them apart and retro-fit assets of your own.
It also makes it easy to test your concept, with preset videos of a range of humans that will wear your filter for you. Or you can push your lens to your phone wirelessly, so you can see how it would look within Snapchat.
Finally, because of Snapchat's formidable audience of daily active users, testing out an idea on an audience becomes quickly a very valuable way to test out ideas and get feedback. Publishing, updating, and deactivating lenses all involve easy steps, it is a very intuitive system.
Join the conversation in replies. I'd love to hear about the tools you use to test an idea out and find your best approach.
Thank you for reading.
Anrick